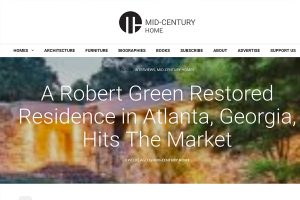 MID-CENTURY HOMES ARTICLE: It's not common to find a house designed by a Frank Lloyd Wright apprentice that, without emulating the master too much, represents the architect's views on dwelling and space design. With this house, architect Robert M. Green did just that.
The Kingloff House, as the property is called, is now for sale and today its owner and interior design consultant, Burns Century, shares with us her thoughts on organic architecture as well as her thoughts about the Robert M. Green philosophy. She also focuses on her approach during the renovation process, ensuring the design stays true to the intentions of the architect.
Check the end of the article for more information about the property and how to contact the real estate agent to schedule a viewing.
First of all, could you tell us a little bit about yourself and your background?
For over two decades I have been an interior design consultant in Atlanta, weaving dreams and ideas into reality through major custom renovations from concept through construction.
My passion is to create holistically-designed, soulful and meaningful spaces, products and art that speak to the individual and makes a difference in the lives of those who experience them.
How did you discover this house and what particular aspects or features won you over?
I'm always looking for modern and/or architecturally significant properties to renovate, either for myself or my clients, and noticed this one on Curbed Atlanta. Once I drove up, I knew it was special – great location in the prestigious area of Buckhead and an authentic Modern!
These mid-century modern homes are rare and because of the location and two acres of gated, park-like land, it could have been bought for a new McMansion.
Finding something that has great modern architecture bones, but needs enhancing in a major way, is what won me over. The interior was dated to the 80s with elements which were not in balance, the interior and architecture didn't connect.
Read More
http://www.midcenturyhome.com/frank-lloyd-wright-inspired-atlanta/