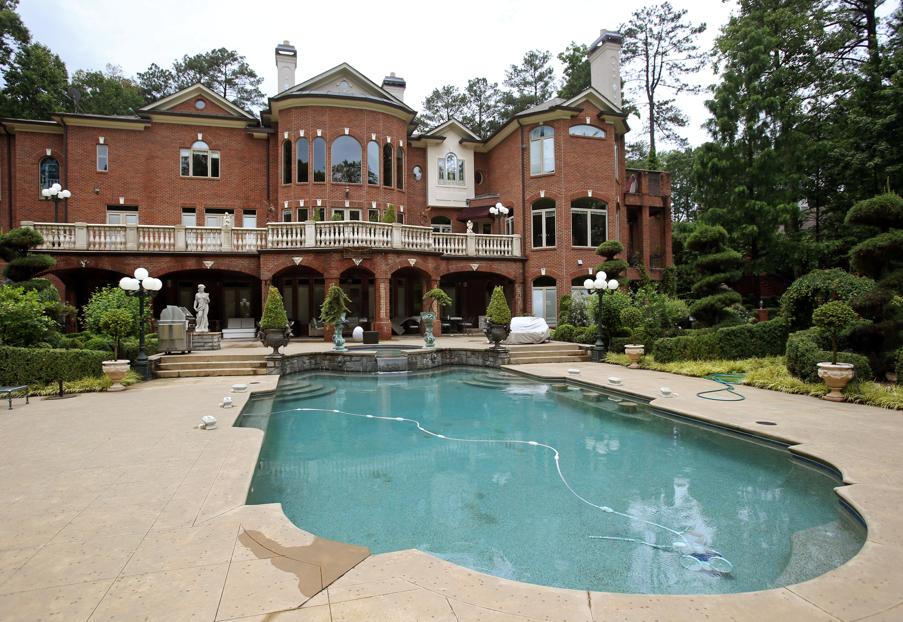 Watching her "child" audition for parts in movies and TV projects shot in Atlanta, Livia Hostetler has developed some do's and don't's.
Don't take it personally when the folks making the "Hunger Games" sequel decide to "go in another direction" after two auditions.
Do keep a lid on excited talk about appearing with Susan Lucci's character in "Devious Maids" — at least until the Lifetime series premieres on June 23.
Don't use the bathrooms in the gorgeous Buckhead home where the VH1 series "Single Ladies" is filming an episode featuring Queen Latifah.
Even though they're your bathrooms. In your gorgeous home.
"It's just being respectful," explained Hostetler, 37, an ebullient wife and mother of two young girls. "It's also pretty funny. We're extras in our own house."
That house is a 10-bedroom jawdropper that Hostetler and her husband, Scott, named "Chateau de l'Imaginaire" when they bought it and surrounded it with lush gardens in 2011. (He's president and CEO of an international landscape design firm specializing in luxury developments.) Now, Livia jokingly refers to the house as "another child" because of all the attention it commands as a filming location. It's part of a growing phenomenon in metro Atlanta, where "Hollywood South" is adding another intriguing class of locals to the many actors, makeup artists and crew members ready for their closeups: People's homes.
"Homes are a big demand," said Lee Thomas, director of the Georgia Film, Music & Digital Entertainment Office. "Homes, high schools, jails … It's all the stuff that's hard to get into."
Combined with Georgia's generous filming tax incentive, it's another reason productions are flocking here.
"It's amazing how many different kinds of houses Atlanta has," said Ian MacGregor, a New York-based location manager who increasingly finds himself working here in what's become a $3 billion industry. "With the tax incentives, they'll find a way to make Atlanta into the North Pole if they need to."
Don't laugh. Debra Johnston, a Realtor with Atlanta Fine Homes Sotheby's International Realty, says one of her property listings in Buckhead doubled as the Bahamas in "Anna Nicole," a Lifetime movie premiering Saturday, June 29. "Devious Maids," a soapy hour-long romp, found fabulous homes (including "Chateau de l'Imaginaire") to "play" Beverly Hills. And when "Trouble with the Curve" needed a smaller home with a specific layout for Clint Eastwood's crotchety old baseball scout character, veteran location scout Norman Bielowicz found it in Decatur.
"The age of the house was right and the floor plan was exactly what the director wanted," Bielowicz said. "It was really important to be able to see multiple rooms from the kitchen."
In an industry known for playing tricks with the camera — parts of several houses sometimes make up a single one onscreen — it's hard to know how many are used. But the sheer number of productions here suggests it's a lot. In 2012, 253 movie and TV projects were shot in Georgia, 75 percent of them in Atlanta.
Like finding the right actor for a role, finding the right home is part science, part art, and a little luck. The film commission's locations database includes more than 100,000 images, everything from scenic roads and lakes to "Old South" settings and private homes. Owners are encouraged to submit their homes for inclusion.
"You never know what [a film or movie] will need," Thomas said.
Indeed, one person's completely average suburban ranch house might be a director's dream location due to its color, type of lawn or its proximity to another location. Well before shooting begins on many projects, the film office has already read the script and combed through its database for recommendations; the production company involved then narrows the choices down to a handful and sends someone to check them out.
Often, though, location scouts will simply drive around and look at homes. Whenever they spy one that looks particularly promising, they leave a letter in the mailbox, giving the film office as a reference.
Sometimes it's all about finding the right room or staircase for a single scene. Sometimes it's about having the right exterior to use repeatedly as "establishing" shots for certain characters, such as the wealthy divorcee played by ex-"All My Children" star Lucci in "Devious Maids." Lifetime shot the exteriors of real homes here and used soundstages for most interior scenes.
Sometimes the production basically moves in for the duration of filming. That's what happened last winter when "Being Mary Jane," an upcoming series on BET, spent about three months shooting in Debra Johnston's mid-century modern house in Atlanta. Starring Gabrielle Union as a successful TV news anchor balancing work and a personal life, it launches with a two-hour movie July 2, followed by the series debut in early 2014.
If it's possible for a house to embody a character, the show's location manager says, this one did.
"Deb's house has a feminine quality that's not overbearing or overwhelming in any way," said MacGregor. They were bowled over by the Japanese garden out front and a dramatic bamboo-filled glass wall of windows between the master bedroom and bath. "Sometimes you go in someone's house and it's 'Oh, wow.' You get a certain sensibility. Her house did that."
Yet shooting for so long in one house is a major commitment all around. It's easier to shoot on a sound stage where you're not prey to weather issues, time limits and neighborhood concerns about noise and traffic, MacGregor conceded. Meanwhile, Johnston, whose home was listed on the film commission's locations database, had to move out of her house for the duration. Like everyone interviewed for this story, she wouldn't say how much she was paid for the use of her house.
Her house even helped her branch out into related professional areas. Johnston was part of a quartet of design-savvy homeowners featured in a recent episode of TLC's "Four Houses." She's hoping to do more on-camera work; she's also developing a side business as a "location consultant," helping film and TV projects find and gain access to high-end homes.
Back at Chateau de l'Imaginaire, Livia and Scott Hostetler also have amassed their own screen "credits," appearing as extras in that "Single Ladies" episode where a spirited (and ultimately wet) auction takes place by the pool on the chateau's Versailles-inspired back lawn. It's the same expansive lawn that ultimately proved not quite expansive enough for the folks making "The Hunger Games: Catching Fire," who came to check it out twice.
"They needed 'a sweeping view from afar,'" Livia Hostetler said, using air quotes to describe the setting of a party scene at President Snow's (Donald Sutherland) house in the movie that opens the Friday before Thanksgiving. "They wound up using the Swan House."
There was some consolation for missing out: Livia got to be an extra in that party scene, just as she was in "Anchorman 2," "Flight" and a few other projects made by people who've gotten to know her through the chateau.
"For me, it's just so much fun," said Hostetler, who's from the Philippines. "Growing up there and watching all these Hollywood movies, I never would've imagined I'd meet Denzel Washington working in my city one day. And then to have them want to use our house … "
She laughed.
"You're flattered. It's like, 'Wow, someone else appreciates our 'child.'"
How to list your house
Think your house could be a star? Consider listing it in the location library maintained by the Georgia Film Commission. There's no telling which look will be needed for a TV show, movie or commercial, only that, as the film office says: "Much of our success rests on the diverse and interesting locations that are present here in Georgia." To get started, go to www.georgia.org, click on "film and TV production" and then "List your property as a film location." You'll be asked to fill out a "location submission form" and given instructions on the types of digital photos to include. And they're not just looking for homes — commercial property can be submitted for inclusion as well.